Halloween is one our favorite holidays around here….and getting to dress up your kids makes it even sweeter!  Or should I say spookier?
Even though Halloween is still a good month away, most of us are already thinking ahead about what our kids can be…or if it's not yet on your radar, consider yourself nudged.  (wink, wink)  The best costumes for kids are comfortable, cute, and clever….the 3 C's.  Here are a few DIY ones that fit the bill and are sure to be a hit!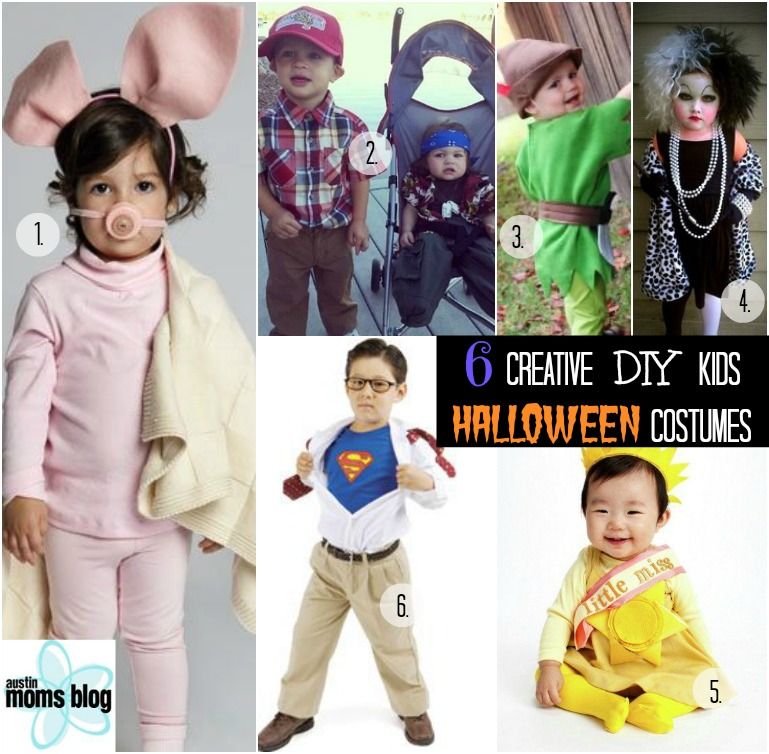 1.  Pig In a Blanket:  This one is a great no-fuss costume.  Even if your kiddos throws off the snout, the message is still clear…Oink.
2.  Forest Gump and Lt. Dan:  I just about died when I saw this adorable duo.  How clever and easy is that?  If you have two little sons….well, I think you can just stop right here and go dig out your bandanas and a red cap!
3.  Peter Pan:  This cute DIY costume would take a little bit more prep, but easy nonetheless.  A big or little sister Tinkerbell would be a piece of cake costume, too!
4.  Cruella de Vil….Cruella de Vil…If she doesn't scare you…Well, there's no way a little tot in this get up could scare anyone, but they would sure get some props from the adults!  This would be a great one for an older child around 6 or 7 because of the face makeup.  Bonus points if you have a Dalmation!
5.  Little Miss Sunshine:  Just. Precious.  I mean, how simple is this???  Perfect for the little baby or toddler that will be sure to brighten anyone's Halloween!
6.  Clark Kent/Superman:  What little boy doesn't love superheros?  Another no-fuss DIY, as Superman shirts are everywhere right now (check Target) and the rest of the costume is pretty standard.  And I have a soft spot in my heart for kids in glasses.  🙂
So what do you think Austin mommas?  Do you already have your kids' costumes planned out?  Or will your little ones Trick-Or-Treat as a Cruella or a Piggie in a Blanket?  Feel free to leave other great DIY ideas in the comments…we'd love to hear them!
Stay posted for our upcoming AMB costume reveal…It's gonna be a hoot!